13 Halloween
Party Ideas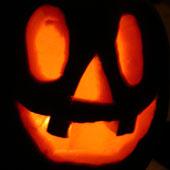 Your Halloween party can be spooky fun for guests with these party ideas.
1) Create a haunted section of house or office complete with scares and volunteer actors.
2) Act out a Murder Mystery theme with volunteers acting in the roles.
3) Take turns telling true ghost stories. You'll be surprised how many guests really have something to tell.
4) Encourage people to make their own costumes for creative fun. Then have a Halloween costume contest for best, scariest, most original as well as other categories.
5) Volunteer to tell fortunes with a crystal ball or tarot cards.
Dress the part.
6) Give your guests a Treat Bag of candy and small Halloween fun trinkets to take home.
7) Hold a seance with secret volunteer(s) to scare guests.
8) Halloween snacks (candy corn, popcorn, gummy worms, candied apples and caramel apples), cake and food can have a Halloween theme. Serve candy bugs and cake in the shape of a cemetery.
9) Decorate the house or office with plenty of spiderwebs, body parts (dolls) with fake blood.
10) Play recordings with spooky sounds like screams and creaking doors. And play popular music with a Halloween theme.
11) Play the game Bobbing for Apples. An alternative to placing them in a tub is to hang them from a clotheline. You can use doughnuts instead of apples, too.
12) Have guests make candied apples from a variety of ingredients on a table like shredded coconut, M&Ms, cookie crumbs, chocolate, peanut butter and caramel.
13) Watch scary movies.