13 Halloween
Party Themes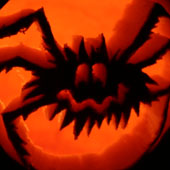 Throw a fun Halloween party around a creative theme. Here are thirteen party ideas for a scary good time.
1) Superheroes vs. Supervillians
Everyone must choose a comic book character for a Halloween costume.
2) Time Period
Select a time period for costumes and decorations. The Roaring 20s, Swinging 60s, 1950s, Ancient Egypt or even a time period in the future.
3) B-Movie Theme
It's-so-bad-it's-good movie party theme.
4) Haunted House or Office
Create your own haunted site complete with volunteers to add spooky chills for your guests.
5) Make Your Own Costume
Everyone must make their own costume. Prizes for the best!
6) Fan Favorite
Your favorite book, TV show, music group or movie theme. Costumes and decorations based on fan favorites like Star Wars, Harry Potter or KISS.
7) Murder Mystery
Volunteer actors create a mystery which guests must solve.
8) The Living Dead
All guests must dress like a deceased person from history, movies, television or music.
9) Pet Costume Party
Bring your pets to the party.
10) Seance
Hold a seance if you dare.
11) Vampires
Dress as your favorite vampire.
12) Cemetery
Perfect for a yard. Decorate like a cemetery.
13) Scary Movie Night
Watch scary movies all night. Serve plenty of hot buttered popcorn and other treats. Who needs sleep, anyway?