Cool Gifts & Decorating Blog
articles, helpful tips, ideas & fun facts
Plan a Retirement
Party Checklist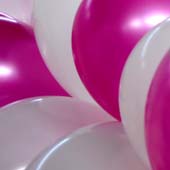 part 2

6) Location

Some retirement party ideas for location are the office, restaurant, country club, dinner cruise, a home or backyard. If it's outside, don't forget to prepare for the possibility of bad weather. Use tents or an easy way to move the party indoors.
7) Food, Drinks, Snacks and Cake

Don't forget to consider special diets of the retiree and guests.

Decide the menu at a restaurant or hire a caterer for the office. Or you can have each guest bring a dish for a personal home-style touch if the retirement party is being held in an office or at a home.
8) Invitation
A flyer or notecard should have basic information about the retirement party.
The information should include: retiree's name; location of party with directions and parking information; date and time; fee; deadline to respond and pay the fee; contact name with phone number and/or location
The party invitation can be by mail, email, displayed or personally given to potential guests.
After the guests respond, you will have specific information about who is attending and the funds available. Now, you can decide how much money can be spent for things like decorations and a gift.
9) Entertainment
You can hire entertainment like musicians. Or create your own entertainment by having someone bring CDs and a player. Be imaginative.