Cool Gifts & Decorating Blog
articles, helpful tips, ideas & fun facts
Plan a Retirement
Party Checklist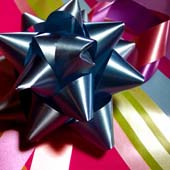 part 3
For instance, you can create a short video about the retiree which can be shown during the party.
10) Party Decorations
Balloons, banners, party favors
11) Retirement Gift and Card

Have everyone sign the card in secret.




12) Miscellaneous


If it's an office party or held in a home, you will need to buy paper plates, napkins, etc.
13) Speeches
Ask before the day of the party if anyone (including the retiree) would like to make a speech.
14) Camera and/or Camcorder
Have plenty of batteries.
15) Before the Retirement Party
Be at the party location early to decorate, prepare food and ensure that everything is ready for the guests and retiree.
16) Retirement Party Begins
Have fun!
Click for printable
"Plan a Retirement Party Checklist"